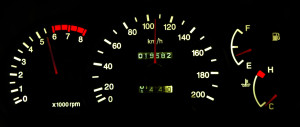 What's worse: A suspect gets away, or an innocent person is injured or dies during  a car chase to apprehend the suspect? The latter, of course.  But if you're on the lam, don't you now have an incentive to punch it? As reported by The Belleville News-Democrat:
The man who led police on a high-speed chase earlier in the week still has not been located.

Stephen K. Anderson, 34, whose last known address was in the 3400 block of Hollywood Heights Road, has been charged with aggravated fleeing and attempting to elude a police officer by the St. Clair County State's Attorney's Office.