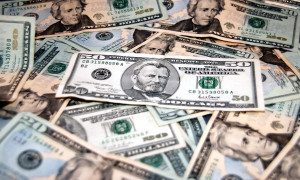 You never know when you might need some cash. Some folks deal only in cash. (The Juice can think of a few …)  But this much?  As reported in The Brooklyn Paper's Police Blotter (68th Precinct – Bay Ridge/Dyker Heights):
A crook hit the jackpot when he lifted $18,600 from an Eighth Avenue apartment between May 26 and June 3.

The resident was out of town for the span, and when he returned to his house between 67th and 68th streets in Dyker Heights, he found that someone had broken into his apartment and taken the cash and an iPhone 6 from his bedroom dresser, police said.
Who keeps $18,600 cash in a bedroom dresser drawer, other than this gent? Anyone else think the perp knows the victim? The Juice isn't buying the random "jackpot" theory.