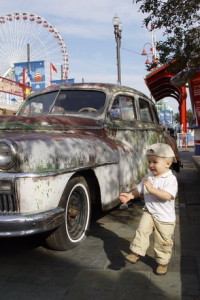 Clearly this gentleman is not a regular Juice reader, or he may not have tried this stunt. (The Juice has posted stories similar to this.)  Sure, being drunk impairs your judgment, but to this degree? As reported by Albany Times Union:
Town police said a Saratoga Springs man had his 10-year-old drive his pick-up truck while he was sitting drunk in the passenger seat.

Stillwater police said they were contacted by someone on Saturday who saw a young child driving a truck on Route 9P. The truck pulled over for police, and it was found that a 10-year-old was driving while his father, John H. Barling, 46, was allegedly intoxicated in the passenger seat. The child was picked up by a family member, and Barling was charged with endangering the welfare of a child, a misdemeanor, and permitting unlicensed operation of a motor vehicle, a traffic infraction.

Barling was given an appearance ticket for town court, and Saratoga County Child Protective Services were contacted by police.