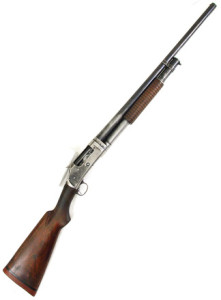 You know that when you point a gun in the air and shoot, that the slug will land somewhere, right? This is especially true when you fire a gun inside a building. As reported by The Bismarck Tribune:
A Bismarck man is accused of firing a shotgun into the ceiling of his apartment, nearly striking a woman who was lying in bed in the apartment above his.

Jeffery Royce Jr., 34, was charged in South Central District Court in Burleigh County with felony reckless endangerment and could receive up to five years in prison if convicted.

Police were called to a residence at  409 Riverside Park Road at 9:49 p.m. Wednesday after receiving a call about a possible gunshot inside an apartment.

Officers arrived and heard a man, Royce, arguing with a 33-year-old Bismarck woman, Bismarck Police Sgt. Mark Buschena said.

Inside the residence, police found a spent shotgun shell on the floor and a 12-gauge shotgun inside the bedroom, Buschena said. Officers also noticed a hole in the ceiling approximately 1 inch in diameter.

A 55-year-old woman who lives in an apartment above Royce's said she was lying in bed when a slug shot through her floor just feet from her, landing inside the apartment's outer wall.

Police arrested Royce and took him to Burleigh County Detention Center.
Missed it by that much. (For the "Get Smart" fans out there.) Here's the source, which includes the suspect's photo.