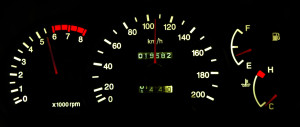 What's worse: A suspect gets away, or an innocent person is injured or dies during  a car chase to apprehend the suspect? The latter, of course.  But if you're on the lam, don't you now have an incentive to punch it? As reported by The Belleville News-Democrat:
The man who led police on a high-speed chase earlier in the week still has not been located.

Stephen K. Anderson, 34, whose last known address was in the 3400 block of Hollywood Heights Road, has been charged with aggravated fleeing and attempting to elude a police officer by the St. Clair County State's Attorney's Office.

According to police reports, an officer tried to pull over Anderson on Tuesday because he knew Anderson had an active warrant for driving with a revoked license. Instead of stopping, Anderson allegedly made a run for it.

The chase started in the 7900 block of North Illinois Street. Police said Anderson disobeyed several traffic signals and reached speeds in excess of 100 mph before the officer broke off the pursuit near the Illinois 111 and Interstate 64 interchange because of safety concerns.

Police posted a photo of Anderson and an appeal to the public to aid in their search Wednesday, but according to Caseyville Police Sergeant Gerard Spratt, he was still on the loose Thursday evening. Because Anderson allegedly exceeded posted speed limits by more than 21 mph, the charge against him is a class 4 felony.

Anderson's bail has been set at $50,000. Anyone with information about his whereabouts is asked to call the Caseyville Police Department through CENCOM at 618-277-3500.
Think his time on the lam will be brief? Most likely. Here's the source.