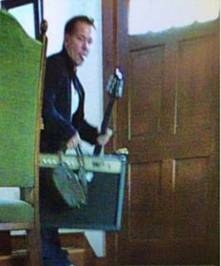 Yes, loyal readers, the cameras are everywhere. So you might as well behave yourself. It's too late for this gent, as reported by The New Hampshire Union Leader:
Detective David Dupont said a homeowner arrived home just before 4 p.m. Aug. 1 to find his 72 Fern lane home burglarized. A Marshall amplifier and electric guitar, kept in an upstairs office, were missing along with a pocketbook, a Coach wristlet and $100 taken from a bedroom closet.

Dupont said the burglar went through every room of the house, leaving drawers open after rifling through them.