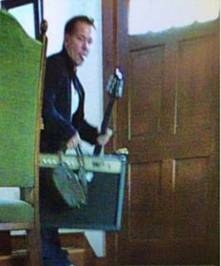 Yes, loyal readers, the cameras are everywhere. So you might as well behave yourself. It's too late for this gent, as reported by The New Hampshire Union Leader:
Detective David Dupont said a homeowner arrived home just before 4 p.m. Aug. 1 to find his 72 Fern lane home burglarized. A Marshall amplifier and electric guitar, kept in an upstairs office, were missing along with a pocketbook, a Coach wristlet and $100 taken from a bedroom closet.

Dupont said the burglar went through every room of the house, leaving drawers open after rifling through them.
But …
Unknown to the burglar, the homeowner had set up a hidden camera and captured two pictures of him smiling and a third with his tongue hanging out, while holding the guitar, amplifier and purse. The photos had a time stamp of 12:40 p.m.

Dupont said the homeowner set up the camera in the event someone broke into his residence, which is located in the Crystal Lake area of the city.
Bam! Here's the source.