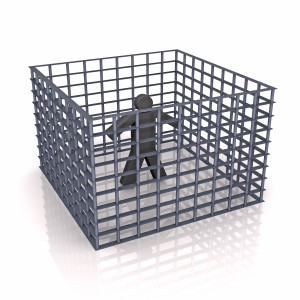 Yes, incredibly, this is a real story. As reported by myfoxdetroit.com:
Three Bloomfield Hills kids who refused an order by a judge to go to lunch with their father have been ordered to a juvenile detention facility.

"I felt like I was watching them be executed," said Maya Tsimhoni.

The Tsimhoni family was in Oakland County's family court for a hearing on supervised parenting time when Judge Lisa Gorcyca took matters into her own hands.

Read the court transcript as the judge as she sent the three kids to Children's Village

June 24 court transcripts showed how upset the judge was. She ordered the Tsimhoni kids ages 14,10 and 9 to have a "healthy relationship" with their father.

She criticized them for avoiding him and even compared them to Charles Manson and his cult. Gorcyca then ordered the children to apologize and have a nice lunch with their dad.

When they refused, Gorcyca held them in contempt and had each child hauled off to Children's Village's juvenile hall – until they are 18 years old.
It's been two weeks, and they're still there. You can read a lot more here.