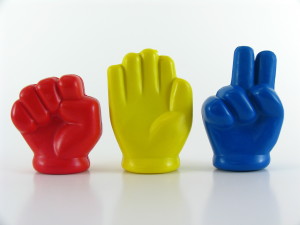 Who would think of "rock, paper, scissors" as a gambling game? A Seattle man did (it's unlikely he will again, at least for a while), and was looking for takers. He found one, and it didn't end well. As reported by komonews.com:
King County prosecutors claim Michael Langley stabbed at another man after his friend lost a $1 bet on a street corner rock-paper-scissors match. Langley, 36, has been charged with second-degree assault in the June 29 incident.

Prior to the incident, the alleged victim had been soliciting rock-paper-scissors opponents near the intersection of Broadway and East Pike Street in Seattle's Capitol Hill neighborhood.

A friend of Langley apparently took the gambler up on a game shortly after 3:20 a.m., and lost his dollar. While Langley's friend was sanguine after the loss, police say Langley saw red.

"I'm going to stab you in the (expletive) neck," Langley told the other man after demanding a refund for his friend, according to charging papers.

Langley then pulled a folding knife and lashed out, slashing inched from the other man's body and slicing his "rock-paper-scissors for a dollar" sign, a Seattle Police Department detective said in charging papers. The alleged victim gave the other man back his dollar and fled.

According to charging papers, Langley was still near the QFC grocery store at the corner when the alleged victim returned moments later. He identified Langley as his assailant to police at the scene.

Police arrested Langley inside the QFC. According to charging papers, Langley was carrying a knife matching the description given by the victim.

Questioned by police, Langley claimed he threatened to burn the other man's sign but denied stabbing at him, the detective said in court papers. Langely is alleged to have stuffed two bottles of wine into his pants during his visit to the QFC.

Langley has been jailed since the incident on $80,000 bail. He has not yet entered an initial plea.
Wow. That's a lot of jack. Here's the source.