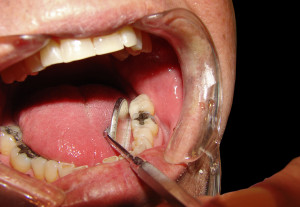 Nobody just walks into a dentist's office and does this, except this guy. As reported by the Seattle Post-Intelligencer:
King County prosecutors claim James Pfitzner, Jr., provided his name, date of birth and Social Security number to an office manager at Aurora Dental Care, located in Seattle's Greenwood neighborhood. Pfitzner, 43, is alleged to have started masturbating moments later.

Describing the May 20 incident, a Seattle Police Department detective said the office manager then shouted at Pfitzner and called 911. Police responded but couldn't find Pfitzner.

The office manager identified Pfitzner after reviewing a photo montage, according to charging papers. She later recalled that Pfitzner helped her pronounce his last name while checking in.

Pfitzner, who appears to have been living in a Seattle homeless shelter, was arrested the day after the incident and has been jailed since.

Pfitzner has been charged with felony indecent exposure. He was convicted on two misdemeanor counts of the same crime in December after pleading guilty.
Yikes. Sounds like he needs some help, not jail time. Here's the source.