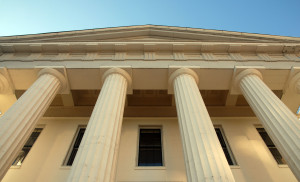 It's a robe, not a cloak of invincibility. This former Judge just learned that retiring got rid of the ethics charges but … as reported by The Daily Report …
A Fulton County grand jury has indicted the former chief judge of the Brunswick Judicial Circuit for making false statements and violating her oath of office as her judicial conduct was investigated nearly four years ago.
Indicted, as in she could face 1-5 years in prison for each count. About the ethics charges …
In 2011, the state Judicial Qualifications Commission filed ethics charges against Chief Judge Amanda Williams, accusing her of "willful misconduct" and "tyrannical partiality." The JQC cited claims of the judge doing judicial favors for friends and family members, conducting ex parte meetings with litigants and lawyers and ordering others locked up for little or no reason.

In one case, Williams was accused of jailing Lindsey Dills, a young drug court participant, for an indefinite term. The woman ultimately spent 5½ years in Williams' drug court, including more than a year in jail for cashing two forged checks totaling $100 on her father's checking account, according to the JQC.

Williams announced in December 2011 that she would voluntarily step down, ending the prosecution by the JQC.
You'll find the source here, and more information about the criminal and ethics charges in this story in The Atlanta Journal-Constitution.