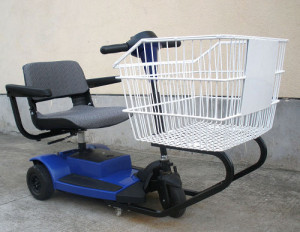 Motorized grocery carts are very useful for certain folks while doing their shopping. But outside of a grocery store, what would anyone use it for? The police may have asked Mr. Wedding that question, among many others. Per wdrb.com (Louisville, Kentucky):
According to an arrest report, an officer saw 19-year-old Anthony S. Wedding driving the [motorized] grocery cart on the sidewalk near the corner of New Cut Rd. and 3rd St. Rd., just before 3 a.m. Wednesday.

Police say the officer stopped Wedding to talk to him, and Wedding allegedly told the officer that the nearby Kroger said he could drive the motorized cart home.
"Sure, Mr. Wedding, take the cart for as long as you need it. Oh, and the groceries are free today. So take them too."
The officer contacted representatives of Kroger, who denied giving Wedding permission to take the cart and accused him of stealing it, according to the arrest report.
Why, you might wonder, did Mr. Wedding do it?
Wedding allegedly smelled strongly of alcohol, had bloodshot eyes and slow speech. Police say he admitted to drinking half a pint of alcohol earlier in the day.
Big shocker there. What were the charges?
Wedding was charged with theft by unlawful taking, alcohol intoxication in a public place and giving an officer a false name or address, according to the arrest report.
Dude is damn lucky he didn't get a drunk driving charge too. Seriously. Regular Juice readers know this has happened when drunk folks have "driven" similar vehicles. Here's the source, including Mr. Wedding's mug shot.