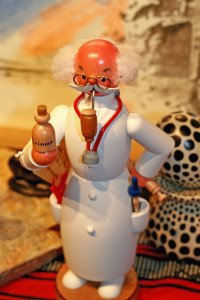 If this case is at all typical, it's very tough for a doctor in the UK to be permanently barred from practicing medicine. As reported by The Daily Express:
Dr Ellen MacInnes, who has also been banned from driving three times, had to provide a blood sample to prove she was fit to get back behind the wheel, a disciplinary hearing heard.
… However the doctor, of Chelmsford, Essex, abused her position of trust and lied to one of her patients by inventing an illness and claiming she needed to take a sample of their blood. She also forged the signature of a fellow ­doctor.
You probably already know what she did with the blood.
… testers became suspicious when two samples arrived at their laboratory – one clean and one with "abnormalities".
Doh!
Dr MacInnes, formerly of the Baddow Village Surgery in Essex, admitted acting dishonestly when she appeared before a disciplinary panel.
The punishment?
The General Medical Council panel banned her from medicine for a year "for the protection of patients, the public interest and her own interest".
You might be thinking: "that seems reasonable. Maybe she just needs another chance." Well, it turns out she's already had another chance, and another.
She was banned after being sacked from the Tennyson House Surgery in Chelmsford in 2006 after fitting a contraceptive coil "while smelling of alcohol".
She was also suspended for six months in 2009 after receiving her third conviction for drink-driving.
So, after all that, she can reapply in a year. Here's the source.