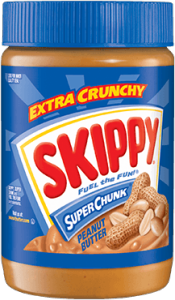 This isn't the movies, where the bad guy is escaping and the good guy picks up a rock and throws it 50 yards and nails the perp.  No, in real life, when you try something like that, something like this happens, as reported in the The Brooklyn Paper's Police Blotter for the 88th Precinct – Fort Greene–Clinton Hill.
A DeKalb Avenue store clerk accidentally hit a customer in the face with a jar of peanut butter while trying to throw it at a man he was arguing with on Aug. 14, cops said.
Doh!
The worker was arguing with the guy inside the bodega between S. Portland Avenue and S. Oxford Street at 9:40 am, according to a police report. The ornery customer chucked something at the clerk and he returned fire with the peanut butter, but hit a 19-year-old woman standing nearby instead, the report says.
Sound like negligence to you? It does to The Juice, who happens to be a personal injury lawyer.  As for the victim …
The woman walked across the street to the Brooklyn Hospital Center for treatment, police said.
Here's hoping she's okay.