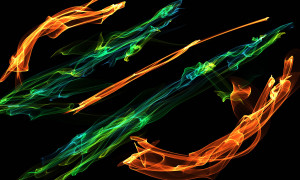 If you are wondering how someone could withstand and do all of those things, you're in good company. The judge was also puzzled. As reported by The Herald Mail (Hagerstown, MD):
A Hagerstown man who broke a set of steel handcuffs and was shocked with stun guns 30 or more times during a struggle last summer with five police officers was acquitted Tuesday during a trial before a judge in Washington County Circuit Court.
Yup. Acquitted of all charges.
"This is, as far as I'm concerned, a medical mystery," Circuit Judge Daniel P. Dwyer said as he granted the motion for acquittal on all charges against Nicholas Edward Borum, 32, of Outer Drive.

There was no evidence in the two-day trial "to explain the phenomenal strength Mr. Borum exhibited" on the morning of July 10, 2013, Dwyer said.
So what happened that day?
On that morning, Hagerstown police responded to a report of a burglary in progress near Borum's home, according to the statement of probable cause. When the caller confronted the man, later identified as Borum, "he just stood there and refused to leave," the charging documents said.

When police arrived, the doors of the caller's shed "appeared to be pulled from the hinges," the documents said.

Dressed only in shorts, "Borum had a distant stare, was clenching his fists, breathing heavy and not responding" to commands, the documents said.
Uh-oh.
When an officer tried to place him in custody, Borum began to resist. Officers used electric stun devices on Borum and tried to handcuff him, the documents said.  "Borum displayed immense strength throughout the altercation," the documents said.

Officers were able to handcuff Borum, but he continued to kick, flail at and try to bite officers, despite being shocked repeatedly.

Ambulance personnel administered a drug to calm him, but "the shot did nothing," the documents said.
Zoinks. Now what?
Borum then broke the handcuffs before police got him into an ambulance, and he was taken to Meritus Medical near Hagerstown.
Whew. The charges?
Borum was charged with five counts of second-degree assault, as well as resisting arrest, disorderly conduct, reckless endangerment and two counts of malicious destruction of property, court records said.
And he was not guilty because …
"I'm absolutely convinced … Mr. Borum was not in control of his faculties," Dwyer said before dismissing the charges.  The judge said he could find no evidence of voluntary intoxication.