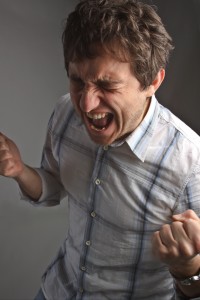 Something set this guy off,  because he went berzerk. As reported by CBC News:
Durham Regional Police say that witnesses reported seeing a Honda going north on Concession Road 7 at a high rate of speed and swerving in front of oncoming traffic at 5:30 p.m. Wednesday.

Police allege that the driver stopped near Foster Drive, got out of his car and confronted other motorists.
Not cool, but it was just beginning.
According to police, the same individual then drove away and stopped near Ravenshoe Road, where it is alleged that he reached into the cab of a dump truck, assaulted the driver and damaged a radio.

Police also allege that the suspect then threw a hammer, which hit the dump truck driver's arm.
Even less cool.
It is also alleged that the suspect swung a recycling box at a homeowner, which hit that individual in the head.
Really, really uncool.
The suspect is also accused of assaulting a police officer that came to arrest him.
Now you've done it.
[The] 53-year-old Udora man faces two counts of assault with a weapon, a charge of assault, a charge of assaulting a police officer, dangerous operation of a motor vehicle and mischief under $5,000.
You'll find the source here.