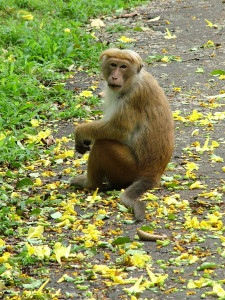 Tarzan was raised by apes, and looked how well he turned out! Case closed! Maybe, but not so fast. As reported by The Grand Island Indepedent (Nebraska):
A situation in which two monkeys were playing with a baby, as shown in a Facebook video, does not violate state standards for child neglect or abuse, said Sgt. James Laudenklos of the Merrick County Sheriff's Department.

The video was shot in a Merrick County home not far from Grand Island. After seeing the video on Facebook, someone reported it to the state Department of Health and Human Services, concerned about the safety of the child.

Laudenklos, who spoke to the people involved, said the situation does not meet the criteria for neglect or abuse.

Because the child does not live with the owners of the monkeys, it appears to be a one-time incident, he said. The owners of the monkeys have been advised not to let the monkeys play with the child, he said.

The Department of Health Human Services will not pursue the matter, Laudenklos said.
You'll find the source here.