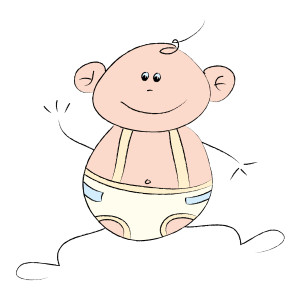 … a turkey baster. This is a good example of why you put things in writing. People rarely think things will go wrong, especially when dealing with friends. But making babies is serious stuff, and should be treated accordingly as the mother in this case now appreciates. As reported by Virginia Lawyers Weekly (via ap):
A woman who used a turkey baster to impregnate herself is on the losing side of a legal battle over parental rights.
You really can't make these cases up. If you tried, people would say "That's absurd! That would never happen!"
The Virginia Court of Appeals ruled Tuesday that the child's biological father is more than a sperm donor and is entitled to be a part of his son's life.

The case hinged on an informal agreement between two longtime friends: a woman who wanted to get pregnant and a man willing to supply the sperm to make it happen. According to court filings, Joyce Rosemary Bruce impregnated herself with a turkey baster, believing that Robert Preston Boardwine would not have any parental rights — including a say in the boy's education and other decisions — because they did not have intercourse.
Said the court: "The path to fatherhood may have been unconventional," … but it doesn't remove Boardwine's parental rights.
Bruce could appeal to the Supreme Court of Virginia . Neither her attorney nor Boardwine's returned telephone messages seeking comment.
Here's the back story:
The appeals court's narrative recounts a woman's quest for single motherhood, the crumbling of a friendship and a man's persistence in seeking involvement in his child's upbringing. It also shows what can happen when two people, even trusting friends, do business without putting it in writing.

It began with Bruce's desire to have a child to raise on her own. She turned to her friend Boardwine, who agreed after some trepidation to provide the sperm. They discussed a written contract but never signed one.

Boardwine would stop by Bruce's home and give her a plastic container of his sperm.

"Bruce used an ordinary turkey baster to inseminate herself," the court said. "No other person was involved. They did not go to a doctor's office or to a medical facility."

It didn't work. Bruce turned to a fertility doctor, and two inseminations with sperm from anonymous donors also failed.

So it was back to Boardwine and the turkey baster. After several visits from Boardwine in June 2010, Bruce learned the next month that she was pregnant.

Everything went well for a while, with Boardwine visiting and bringing a stuffed bear and baby clothes. But their expectations for the future were different. Bruce testified in the lower court that she wanted Boardwine to be only as involved as her other friends. He envisioned a more active role — attendance at the boy's sporting events someday, and a voice in major decisions.

The relationship soured when Bruce rejected Boardwine's suggested name for the child. They didn't speak for about five months, until the boy was born and Boardwine showed up at the hospital. Later visits to Bruce's home were "sort of strained," the woman said, and she eventually told Boardwine to stay away.
When that happens, there's really only one avenue of recourse.
That's when the father went to court.

Bruce argued that Boardwine had no rights because, under the state's assisted conception law, he was merely a sperm donor. But the law defines assisted conception as a pregnancy resulting from "medical technology," and that definition doomed her argument.

"The plain meaning of the term 'medical technology' does not encompass a kitchen implement such as a turkey baster," Judge Stephen R. McCullough wrote for the appeals court.
How bizarre is it that the gent's claim hinges on whether a pregnancy resulting from a turkey baster is one that resulted from "medical techonology"? Here's the source.