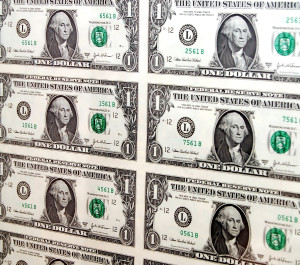 Unless you just don't follow the news at all, you know about the gent who landed his gyrocopter on the lawn next to the US Capitol. He got that far because he flew under the radar. These two gents also must have been trying to fly under the radar by counterfeiting such a small bill. Otherwise, it doesn't make a whole lot of sense. Hell, it doesn't make much sense regardless! As reported by tcpalm.com:
Two Broward County men have been accused of passing counterfeit money at local stores Friday afternoon, said Martin Sheriff's spokeswoman Christine Christofek.  The men used up to 40 counterfeit $1 bills at Publix in the 2700 block of Southwest Martin Downs Boulevard in Palm City, Christofek said.

Michael Rice, 30, of Fort Lauderdale, is accused of using 14 $1 bills with identical serial numbers inside Publix.  Jacques Michel Desire Jr., 28, of Tamarac, is accused of using 21 $1 bills identical serial numbers at the Publix, reports show.

When deputies arrived Rice, 30, was taken into custody at 2:47 p.m. Friday, reports show. Desire took off running but was found several hours later in a wooded area on Basko Lane in Palm City.The men were each booked on $10,000 bond at the Martin County Jail.
Seriously? Go big, or just don't go. Click here for the source.