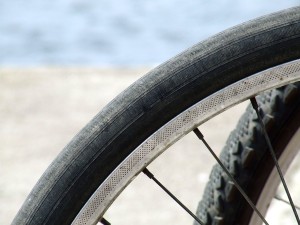 You may think you have a good hiding place, but that's just visually. That won't stop it from smelling. Just ask these two cyclists. Per The Tucson Sentinel:
Two Douglas-area teens were taken into custody Friday when Customs and Border Protection officers at the Douglas Port of Entry discovered seven pounds of marijuana hidden in their bicycle tires.

Officers arrested a 17-year old boy and girl when a drug dog led officers to inspect the tires of each bike. They discovered 3.5 pounds of marijuana hidden in the tires of each bike, worth an estimated $3,400 overall, a press release from the agency said.

Officers seized the drugs and bicycles, and referred the teens to Immigration and Customs Enforcement's Homeland Security Investigations.
Curse you doggie! Here's the source, which includes a photo of the pot-filled tire.