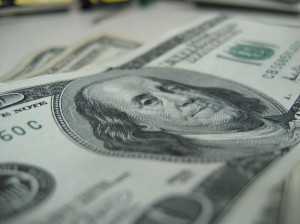 If a store won't take your fake hundred … just go to the next one, and the next one … As reported by Lancasteronline.com:
Toni Lyn Miller, 32, of Sinking Springs, passed a fake $100 bill at one outlet store and tried in vain to pass a similar bill at four other outlet stores, East Lampeter Township police Lt. Robin Weaver said.
Shouldn't have gotten greedy.
In each incident, the she selected an inexpensive item to receive a large balance of change in return.
Yeah, that's not suspicious at all. And who would have thought that maybe one of the merchants who rejected the hundred would call the police? Um, lots of people?
Police charged Miller with five counts of felony forgery, four counts of misdemeanor criminal attempt at theft by deception and one misdemeanor count of theft by deception.
She was arraigned on the charges and committed to Lancaster County Prison.
Here's the source, including a mug shot.