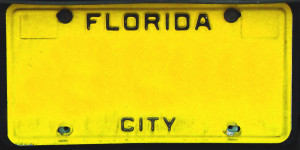 Yeah, yeah. Someone has to review vanity plate applications in every state. Of course, what is approved and what isn't never seems to make a whole lot of sense. If you want to see A TON of plates requested in Florida and whether they were accepted or rejected, click here. Here's a sampling, as reported by WTSP.com:
While G8TR H8R, G8TR H8R2, G8R H8, G8RS SUK, and G8R PIMP were all rejected, G8TR HTR was approved in 2007.
While OLD FART was rejected, HORNMAN was approved.
While GUN PLAY was rejected, GUN SAFE was approved.
While BIG TURD was rejected, BG JONSN was approved.
Unfortunately for Rays fans, neither SOX-H8TR nor YKS SUK was approved.
So how are these momentous decisions made?
"(We review) things that would be generally objectionable," said Department of Highway Safety & Motor Vehicle (DHSMV) spokesperson Leslie Palmer. "Things dealing with race (and) things…of a blatant sexual nature."
Before a license plate is rejected, the majority of a special DHSMV committee must indicate it could be offensive to a large group of people. Then, one of the agency heads still must uphold the committee's findings.