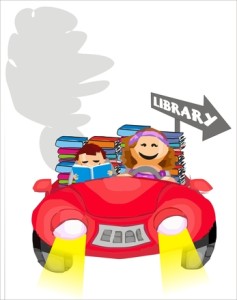 Do you really need a law criminalizing the failure to return a library book? Rhode Island thinks you do, and they have one!
TITLE 11
Criminal Offenses
CHAPTER 11-41
Theft, Embezzlement, False Pretenses, and Misappropriation
SECTION 11-41-14

§ 11-41-14  Failure to return book or other library property. – (a) Any person who shall take or borrow any book or other library property from any of the libraries or collections as defined in § 11-44-15(b), and who, upon neglect to return it within the time required and specified in the bylaws, rules, or regulations of the library owning the property, after receiving notice in writing by the librarian or other proper custodian of the property that it is overdue, shall upon further neglect to return it within sixty (60) days from the date of the notice be guilty of a misdemeanor and shall be fined not more than twenty-five dollars ($25.00), the fine to be for the use of the library. A written or printed notice given personally or sent by mail to a last known or registered place of residence shall be considered a sufficient notice. In addition, if the book should be lost, destroyed, or not returned, the person shall within sixty (60) days after being so notified pay to the custodian the replacement value of the book, including all reasonable processing costs, as determined by the governing board having jurisdiction.

(b) All library users shall be notified of the penalties provided in subsection (a) of this section at the time they obtain or renew their library privileges. The final notice provided for in subsection (a) of this section shall also contain notice of the penalties.
So it's only $25, but it's still a crime, which is just absurd. And do you really think, as required in subsection (b), that new users are told that about this? Unlikely. Here's a link to the text of the law.
(This post, and thousands of others, are brought to you by Washington, DC, Maryland and Virginia personal injury lawyer John Mesirow, a/k/a "The Juice." He handles accident cases involving cars, bicycles, pedestrians, dunking booths [really!], trolleys, trucks, etc.)