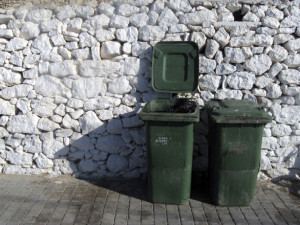 Trust me, your trash isn't that interesting. As reported by The Seattle Post-Intelligencer:
Seattle's privacy is in the trash, according to eight people suing the city over its composting ordinance.

A lawsuit filed today in King County Superior Court argues that Seattle's composting ordinance violates constitutional privacy by allowing garbage collectors to sift through peoples' trash without a warrant.

The suit was announced Thursday morning at a news conference in Kerry Park, where supporters and plaintiffs held signs that read "Stop City Snooping!" and "Don't Trash My Privacy."

The Seattle ordinance — approved by voters last year and in effect since January — prohibits residents from throwing food and compostable paper in with regular trash and requires collectors to visually inspect trash to make sure that no more than 10 percent of the contents is compostable.
You can read more here.