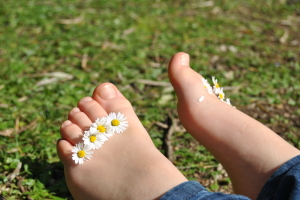 Foot fetishes don't seem to be that uncommon. The question is "Why?" As reported by CTV News Toronto:
An Innisfil, Ont. man has been arrested in connection with a series of sexual assaults involving women's feet.

The man is accused of several instances of licking women's feet and stealing their shoes.

Police allege that a man entered a Richmond Hill tanning salon on Nov. 19, and questioned a woman about her shoes. He asked if he could see one of her shoes up close, then smelled the shoe and fled with it.

The next day, a man entered another Richmond Hill tanning salon and questioned a woman about her boots. He grabbed her leg, pulled off her boot and sock and licked her foot. He then left the salon with her boot and sock.

York Regional Police worked with South Simcoe and Barrie police to track down the suspect. They said that similar incidents had been reported in Aurora, Innisfil, and Bradford.

On Thursday, police said that Mattieu Petrin, 28, had been arrested. He faces four sexual assault charges and one charge of sexual interference with a person under the age of 16, three counts of theft under $5,000 and one count of robbery.
Here's the source, including a photo of Mr. Petrin.