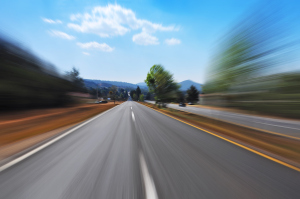 Really? You're blaming the dog for the car exceeding 100 mph? Under oath? In Court? Yup. You can probably guess what the judge thought of this defense. As reported by The Daily Star:
Jordan Winn claimed Buster, a Staffordshire bull terrier, leapt into the foot well of his Volvo and sat on the accelerator pedal, causing him to drive away from a police officer that was pursuing him in Chester-le-Street, Durham.

According to Winn, Buster was operating the driving pedals with his bum while looking up at him with his head poking up between his knees because it was stuck underneath the steering wheel.

The 23-year-old's story was branded "ludicrous" by a judge and was jailed for 13 months at Durham Crown Court and disqualified from driving for three years.

In an attempt to reduce his culpability after CCTV footage of the incident on October 19 last year was shown to the court, Winn even claimed Buster put his behind down on the brakes as the Volvo narrowly avoided a family car.

However the suggestion that the terrier knew when to brake to avoid colliding with the car travelling in the opposite direction and exactly when to speed back up was dismissed.
You can read more, and find the source, here.