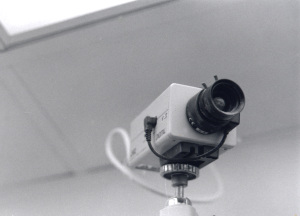 It wasn't hard to prove that this was an inside job! You might ask yourself how a security guard could possibly be unaware of security cameras in the store where he worked. It's definitely a head-scratcher.  As reported in The Brooklyn Paper's Police Blotter (90th Precinct – Southside–Williamsburg):
The owner of a Varet Street jeans and sneakers store said that a security guard stole merchandise between Nov. 11 and Nov. 14.

The proprietor of the establishment between Graham Avenue and Humboldt Street reported that he caught the rent-a-cop on video taking several pairs of sneakers from between Nov. 11 at 5 pm and Nov. 14 at 11 am.
Um, er, uh.