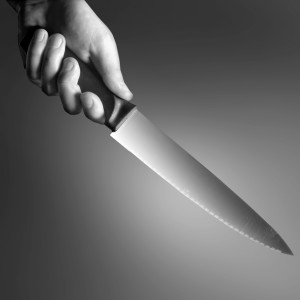 Missy, I am crossing you off my list of babysitters! What did this woman do to deserve such a fate? Plenty, as reported by The Northwest Florida Daily News.
A Crestview woman is accused of picking up a knife and ordering a child she was babysitting to "go outside," leaving the child afraid and crying.

The child, whose age is not reported, walked .5 miles to a friend's house, crying and upset, on March 31, according to the arrest report. Okaloosa County Sheriff's deputies were called around 5 p.m. by the friend's mother.

Investigation found that 37-year-old Alicia Erin Rivera was babysitting the child when she got upset because he wouldn't obey her and he "intentionally broke a light bulb," the report said. Rivera told him "several times" to go outside and play, but the child refused and "began cursing" at Rivera.

She grabbed a knife with a six inch blade and told him, while holding the knife, that "he needed to go outside," according to the report. She allegedly said she picked up the knife to scare the child into going outside.

He got scared and began crying before leaving the residence to walk to his friend's house, the report said. Other children in the home reported seeing Rivera "display the knife towards" the child and "tell him to 'get out' of the residence."
Yikes! So what is Ms. Rivera looking at?
She is charged with aggravated assault with a deadly weapon without intent to kill and child abuse without great bodily harm.
Here's the source, which includes a mug shot.