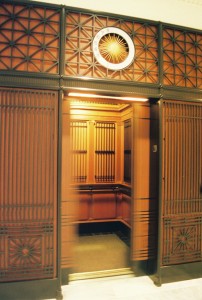 If you live in Britain, you have to know that cameras are everywhere.  And yes, that includes elevators too. And seriously, you couldn't wait another minute or two? Per The Daily Post:
A man who defecated in a lift is being hunted by police as part of a crackdown on "shameless" passengers who use North Wales train stations as toilets.
Yes, you read that right. And the CCTV video can be found at the link at the end of this post.
Officers with British Transport Police have released CCTV images of a person they would like to speak to in connection with the incident at Prestatyn station on Friday, June 13. Human excrement was found in the lift when station staff turned up for work the following morning.

The force has urged those who urinate and defecate at stations to "clean up their act" or face the consequences, and will send officers out onto the region's stations and trains to tackle the "revolting" problem over the coming weeks.

Sergeant Tony Stamp of British Transport Police said: "In recent months, we have seen an increase in incidents of anti-social behaviour, particularly people urinating and defecating on station premises.

"This is very much about standards of behaviour and is often influenced by alcohol consumption.
No! Alcohol? Shocking.  So what happens if the miscreants are caught?
"Anyone committing such an offence could be banned from travelling on the rail network and will receive a criminal record, which may affect their employment."
The Juice would suggest some community service too – cleaning up feces and urine of course. Here's the source, with the video.