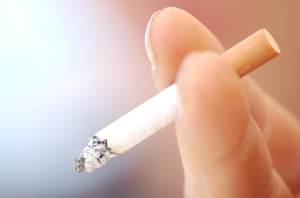 You probably just assumed The Juice was talking about somewhere in the United States, didn't you? It's always about us! Well, this time it's about Taiwan, as reported in The China Post:
Motor vehicle drivers caught smoking while driving on busy roads will soon be fined NT$600, according to a package of amendments coming into force next year aimed at raising the penalties for various offenses affecting traffic safety.

Amendments to the Road Traffic Management and Penalty Act (道路交通管理處罰條例部分條文修正案) passed in the Legislative Yuan after their third reading yesterday.

The sequence of actions involved in smoking while driving, such as lighting a cigarette, exhaling smoke and holding the cigarette, are all punishable acts under the new rules. The critical point is whether others are affected by the acts, according to the text of the amendment, which is most applicable to busy roads.
Each of the above is a punishable act? And what is "busy" anyway? You'll find the source here.