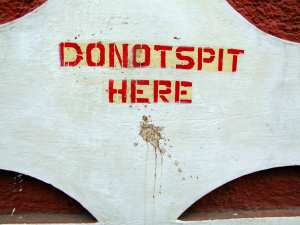 A Minnesota man was thinking no such thought as he got ready to … spit! And he paid the price. As reported by www.kare11.com (Minneapolis):
"I was walking to get some pizza with some buddies," Thomas said.

The 21-year-old said he was getting over an illness and he spit as he was walking. He quickly learned that's illegal in Minneapolis.
He must have been really surprised when the police officer warned … wait, he didn't get a warning?
Police officers driving by in Dinkytown cited him for spitting, which carries a hefty fine. According to the city ordinance if you spit on sidewalks, bus or public areas it's a $115 misdemeanor.
That could fill the coffers pretty fast, assuming the miscreants pay.
Thomas calls the law "wacky" but he's sucking it up will pay the fine.
Here's the source, including a photo of Mr. Thomas.