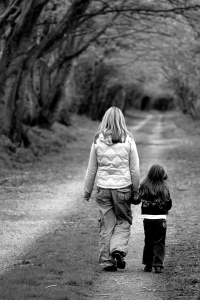 Shared experiences among a mother and her daughter can be great. Or not. This definitely falls in the latter category. Per The New Hampshire Union Leader:
According to Manchester police Sgt. Brian O'Keefe, at 7:30 a.m. Friday multiple patrol units responded to 81 Ashland St. to investigate a report of a large fight and spoke with two victims, a 38-year-old mother and her daughter, 18.

The mother, whose name was not released, told police she was operating her motor vehicle in the area of Lowell and Ashland streets when two females refused to exit the road while riding bicycles. According to police, a brief argument ensued and the mother exited her vehicle and confronted the two bike riders.
Rule #1, don't confront someone unless you're prepared for the confrontation.
Police say this sparked what O'Keefe termed a "physical altercation" between the mother, her daughter and the two women, identified as Samantha Foss, 24, and Lindsey Paglieroni, 32, both of Manchester.

During the altercation, Foss allegedly stabbed the mother, causing a laceration to left arm. Foss then allegedly stabbed the woman's daughter in the back of her neck. Both women were transported to the Elliot Hospital, where they were treated for non-life threatening injuries and released.
Should have just kept on driving.
Foss was arrested on charges of first degree assault, falsifying physical evidence and being a convicted felon for possessing a weapon after being previously convicted of a felony level offense. She is scheduled to be arraigned in the 9th Circuit Court in Manchester on Monday.