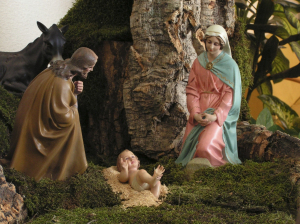 So maybe that's a little bit of hyperbole. Still, who would steal the baby Jesus? And why, in reporting about the theft, would anyone capitalize the word "Baby"? In any event, as reported by NJ Advance Media for nj.com:
A Rockaway Township husband and wife say they are "heartbroken" after a Baby Jesus was stolen from a nativity scene on their front lawn.

But Elaine and Mark Romito haven't given up on retrieving the item that has graced the front of their home at 8 Daniel St. during the Christmas season for the past 22 years.

The couple is asking for help from the public in the hope that Baby Jesus will be returned.
What, are Joseph and Mary chopped liver?
You can read a lot more about this, and see a photo of the nativity scene, here.