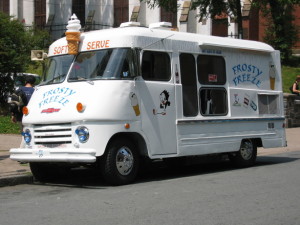 Is it just me, or does it seem like there are a lot of strange ice cream truck driver stories? Here's another one, as reported by wivb.com:
Last Friday night may have seemed like the prime time for dessert, but those who frequented an ice cream truck in Clarence [New York] met a rude surprise.

Officials say the driver of the truck acted belligerently by yelling at kids, but that wasn't all parents had to complain about. Police say the driver drove while wearing nothing but his underwear.

Erie County Sheriff's Deputies who responded to the complaint Friday arrested 24-year-old East Amherst native Ryan Duff. They say following investigation, they realized he was driving high on drugs through the Emily Court neighborhood.

While in police custody, officers say he refused to cooperate with testing, and a drug recognition expert made the final determination that he was under the influence. .

Police charged Duff with DWI-drugs and others charges, then released him to a sober driver.

He's scheduled to return to Clarence Town Court on Aug. 25.
Yikes. You'll find the source here.