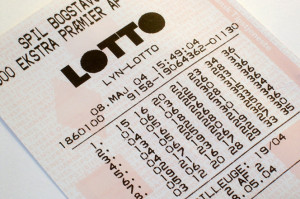 This story reminds The Juice of the time he was in a bank years ago and he happened to overhear a conversation between a disgruntled account holder and the manager. "They cleaned out my account" she said. "They said I won the lottery, and they needed my account number to wire the proceeds. How could you let them do this?" Yes, she was trying to blame the bank. The manager asked her if she had played the lottery. When she replied that she hadn't, the manager asked "Then how did you think you could have won it?" Bam! Manager of the Year! Here's a somewhat similar, though much less egregious, story as reported by brooklynpaper.com:
68th Precinct – Bay Ridge—Dyker Heights

A scammer bilked an 80th Street woman out of $1,500 over the phone between Oct. 21 and Oct. 30, police state. The victim said she got the first call at 10:45 am at her home between 11th and 12th avenues, informing her that she had won the lottery and needed to send a $1,500 deposit to receive the prize. After getting several more calls during the next week, the woman decided to send the dough in the form of three $500 gift cards. She got a check for $3,950, but when she went to cash it at 11:20 am, it bounced.
What kind of prize requires a deposit?