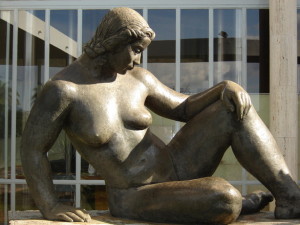 The "live and let live" readers will like this post. Some other folks, not so much. As reported by cbc.ca:
Three Kitchener, Ont., sisters are planning to file a formal complaint after they say they were stopped by a police officer for cycling topless.

Tameera, Nadia and Alysha Mohamed took off their shirts while riding their bikes in downtown Kitchener on Friday evening because of the heat. They say they received mostly positive reaction, until a police officer stopped them on Shanley Street.

Tameera Mohamed and her sisters say they were stopped by a Waterloo Regional police officer for cycling downtown while topless. (Submitted by: Tameera Mohamed)

"He said, 'Ladies, you need to put on some shirts,'" said Tameera Mohamed. "We said, 'No we don't … it's our legal right in Ontario to be topless as women.'"

The officer said there had been complaints, according to Mohamed. She said the officer began backtracking once her sister, Alysha, began recording with her smartphone. The officer then denied having pulled them over for riding topless, before letting them continue their ride, Mohamed said.

"We went on our way and went straight to the police station to report it," she said.

Waterloo regional police acknowledge there was an incident involving three topless female cyclists and a police officer, but would not discuss the incident in detail.

"We're doing an internal review on the situation," said Staff Sgt. Michael Haffner. "It is a current law that if a female chooses to go topless, that is their right."

The sisters say they plan to file a formal complaint with the Office of the Independent Police Review Director, which oversees public complaints against municipal and regional police services in Ontario as well as the Ontario Provincial Police.

"When men take off their tops in public, it's clearly because it's a hot day and clearly it's for their comfort. Women should be given the same freedom," said Nadia Mohamed. "Even though legally we have that right, socially we clearly don't."

The women are holding a rally in uptown Waterloo on Saturday to support the desexualizing of women's bodies. Shirts will be optional.

In July 1991, University of Guelph student Gwen Jacob was charged after removing her top on a hot summer day. That act started a movement, eventually giving all women in Ontario the legal right to expose their breasts.
Who knew? You'll find the source here.