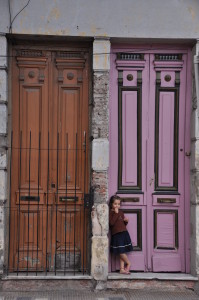 Door are similar in that they all lead somewhere. On a plane, though, where they lead is kind of important – the bathroom, or, as reported at theindependent.ie …
Tomasz Mucha (26) had never been on a plane before and drank vodka and beer to steady his nerves before attempting to open the back door of the Ryanair aircraft.
Yeah, unless you're on the ground, that door is not your average door. But fortunately …
Dublin District Court heard he did not manage to get the door open due to the air pressure.
Whew. Still, the Judge must have thrown the book at this gent.
Judge James Faughnan fined him €200 after the accused said he realised how serious the situation could have been.
And that was after "Mucha … pleaded guilty to being intoxicated on an aircraft and using threatening, abusive or insulting behaviour." Had that happened in the United States, do you think the guy would have been hit with only a 200 euro fine ($270 US)?  You'll find the source, and more, by clicking here.