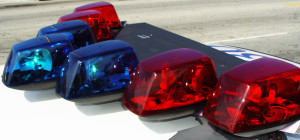 What lengths would you go to in order to avoid a speeding ticket? Ladies, would you fire up the waterworks? Gents, would you throw yourself on the mercy of the officer? You won't believe what this guy did. As reported by WFTV.com:
A man is accused of calling 911 to say that a murder was about to take place, but West Melbourne authorities said the caller was just trying to get out of a traffic stop.
Yes, you read that correctly.
Police said that Julius Lupowitz called 911 to report a murder in hopes that the officer who stopped him would respond to the priority call on Wingate Boulevard rather than write him a citation.

Lupowitz is heard in the call saying there was a man with a gun and that someone was going to get shot and then the call is disconnected.

"I see there's a murder that's going to happen, I swear, on Wingate, on Wingate. No, Wingate and Wickham. No, on Wingate and Hollywood, Wingate and Hollywood," the man said in the call to 911. "I swear there's going to be a murder any second. I swear there's a man with a gun.  Please, I just called, it's Wingate and Hollywood."

The 911 operator received a second call from the same man, telling the same story. As the operator probed the caller for more information, he again disconnected the line.
But this lead-footed criminal genius was no match for the 911 dispatcher.
A quick-thinking Brevard County Sheriff's Office dispatcher did a search for prior incidents associated with the telephone number the 911 calls came from to find the phone belonged to Lupowitz. West Melbourne Police Officer Ted Salem was on the traffic stop when the 911 calls were received.

As he attempted to quickly end the stop to respond to the priority call, he overheard the dispatcher relay over the air that Lupowitz was the telephone owner.

"When she broadcast that information, our officer was standing at the door of Mr. Lupowitz' vehicle and realized it was the same person making the 911 calls," said Richard Cordeau, with the West Melbourne Police Department.
Toast.
Police said Lupowitz would have only received a $209 speeding fine, but now, he faces a third-degree felony charge for misuse of the 911 system and he still received the citation. Police said that charge could land him in jail for up to five years if convicted.

Lupowitz was arrested later at his home without incident, police said.

"This incident needlessly tied up a critical component of public safety. The 911 system is intended for people who truly need help. In addition, these false calls created an unnecessary delay in our officers' ability to respond to true emergencies," said Lt. Cordeau of the West Melbourne Police Department.

He was turned over to the Brevard County Sheriff's Office and given a $2,000 bail amount.
You'll find the source, and a mug shot, if you click here.