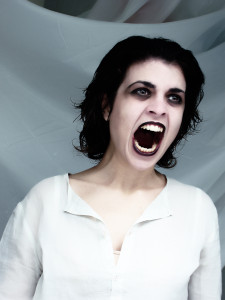 One of Kansas Judge Rebecca Pilshaw's bad days (no, that's not her above!) came as she was trying to empanel a jury in a murder case. Loyal readers know the Juice hates jury weasels. But nobody hates folks who try to avoid jury duty more than judges. There was a little of that going on. As reported in The Kansan:
One prospective juror said she wouldn't believe anything the police said. Pilshaw dismissed her from service, but ordered her to attend every day of the trial because, "You need an opportunity to be exposed more to our law enforcement personnel."
Then Judge Pilshaw lost it (at least, for a judge, this is considered losing it) and said:
Anybody else want to mess with me?
Actually, Pilshaw thought another juror did.
Later, a juror said her religious beliefs made it uncomfortable for her to judge someone else and that anyone on trial must be guilty of something. Pilshaw said she thought the woman simply didn't want to serve on a jury, but had "said the magic words" to be dismissed.
Judge Pilshaw apologized the next day. Ironically, her outburst opened up the door, literally, for two more jurors to be excused! How? Because the Judge said that anybody who felt inimidated could leave, and two opportunistic jurors did. The defendant in the case was convicted of murder, appealed, and … lost. The Kansas Supreme Court held that the trial was not tainted by Judge Pilshaw's conduct. And what about Judge Pilshaw? Her disciplinary case is pending. Here's hoping she gets just a reprimand. (She was publicly censured.)