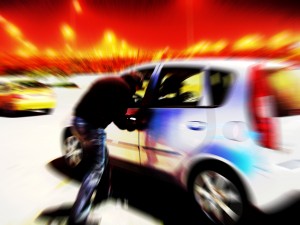 Obviously there's no law against looking suspicious. There is, however, a law against stealing cars. Per The Belleville News-Democrat (Illinois):
O'Fallon police have arrested three suspects in relation to a string of car burglaries.
Caught in the act? Not exactly.
According to police, officers got a call in the early morning hours Friday about three suspicious men walking in the 200 block of Chamberlain's Crossing.

At least one of the suspects was seen looking into a car, prompting a resident to call the police department.
Uh-huh. So how'd they get caught?
Several officers responded to the area; when they found the men, they had possessions from at least two vehicles that had been burglarized.

Charged were filed against Demontee D. Townshend, 22, and Troy J. Moreno, 18, both of O'Fallon.

Townshend was charged with two counts of burglary, Class 2 felonies, and a Class A misdemeanor count of unlawful use of a weapon. Moreno was charged with one Class 2 felony count of burglary.

Both men are in custody at the St. Clair County Jail on $40,000 bail each.

Police said the third suspect, who was not named, has not been charged pending further investigation.
You were carrying around the fruits of your crimes? While you were apparently scouting out another vehicle? Doh! Those are some convictions on a silver platter. Here's the source.