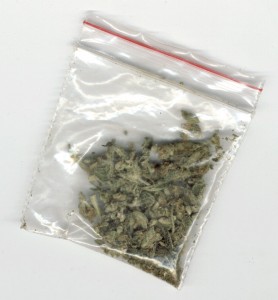 None of this would have happened if the gent had only been wearing his seat belt! Anyway, check out where the gent was hiding the weed, as reported by baynews9.com:
It was about 3:35 p.m. on Friday when a Volusia County Sheriff's Office deputy positioned along State Road 415, in Osteen, spotted a car go by and noticed the passenger — a rather large man — wasn't wearing his seat belt.
Brilliant!
When he stopped the vehicle, the deputy immediately noticed that both the driver and passenger were nervous. And he also noticed that the passenger still wasn't wearing his seat belt. At about 450 pounds, the passenger — Christopher Mitchell, 42 — said he was simply too large to wear the belt.

Due to growing suspicions, a Sheriff's Office drug-detecting K-9 was brought to the scene. The dog quickly alerted deputies to the presence of drugs. The resulting investigation turned up cocaine, 23 grams of marijuana hidden under Mitchell's stomach fat, a .380-caliber semi-automatic handgun and more than $7,000 in cash stuffed into a tube sock. The deputies also noticed something else: The vehicle's trunk and interior were sprinkled with carper freshener and scented dryer sheets, a common tactic used to conceal the odor of drugs when they're being transported.
Under his stomach fat! Admit it. You did not see that one coming. Here's the source, which has their mugs shots.