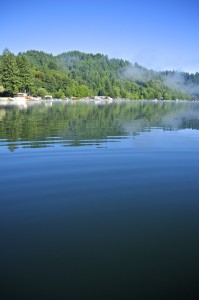 Granted at this point they didn't have a lot of options.  But still, you really thought you'd get away from the cops by swimming across the lake? As reported by The Belleville News-Democrat (Illinois):
Jarrell Beckman, 32; Myron Davis, 31; Johnny Hughes, 22 and Christopher Watson were charged by Missouri authorities with burglary, narcotics trafficking and resisting arrest.
What did they do to warrant these charges?
According to police, the men were burglarizing a home on Wednesday afternoon in Jennings, Mo. when a woman who lived at the house came home to discover them in her living room.
So it's your garden variety, completely unplanned burglary that blows up. Big surprise. But wait.
The suspects reportedly fled, leading police across the Mississippi River into Illinois, where they crashed on Interstate 70 near Illinois 111, their car ending up partially in a lake.

Officers surrounding them on land, two of the suspects swam for the opposite shore across the algae-covered lake. But they ended up surrendering to officers on the lake shore.
You're probably wondering about the narcotics charge. Well …
According to police, two large boxes containing about 10 pounds of marijuana were found in the suspects' car.
Seriously? You burgled a house with a car full of pot? Brilliant! Here's the source.