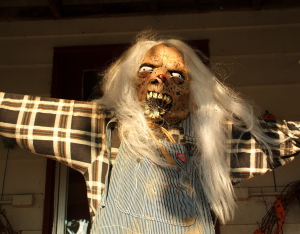 Due to the success of The Walking Dead, zombies are in. Nevertheless, they are not real.  As reported in The Brooklyn Paper's Police Blotter (Williamsburg):
A drunk man with a vision smashed up several storefront windows while raving about the coming zombie apocalypse, cops said.

The visibly intoxicated man broke into one of the businesses in the Shops at 240 Kent complex last week through an unlocked door, stole a fire extinguisher, and used the device to bash the windows, according to the authorities.
Health Quest

"It is a zombie apocalypse," the 38-year-old man screamed, according to a police report.

Shops at 240 Kent, which sits on the avenue between Grand and N. First streets, contains several clothing boutiques, shared office space, and a sex toy shop.

Police charged the man with criminal mischief and trespassing.
Of course he was drunk! A sober person would remember that it would be difficult to kill a zombie with a fire extinguisher, although you could bash in it's head …