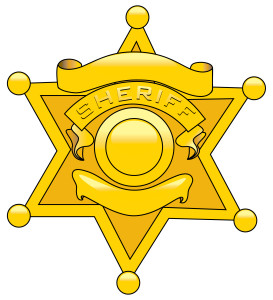 You could go online and get red and blue lights and put them in your grill. Presto, you are now driving an unmarked cop car. That's the game this guy was playing. (Hopefully it was just a game, and not something nefarious, not that the judge is likely to care.) Anyway, if this gent ever saw Casablanca, he would be Humphrey Bogart (he wishes), saying "Of all the gin joints in all the towns in all the world, she walks into mine." As reported by khou.com:
Flashing red and blue lights on the front grill of a truck caught one officer off-guard Wednesday afternoon, on SH 249 in Tomball.

"I thought it was an unmarked police vehicle," said Sgt,. Rebecca Carlisle, with Tomball Police.

It almost fooled Carlisle, when she saw them in her rear view mirror.
In case you missed it, that was "Sgt. Rebecca Carlisle" the wannabe pulled over.
"My initial instinct was oh my God! What am I doing to get pulled over?" said Carlisle.

But the sergeant, who was in her full uniform, quickly knew something was wrong.

"Well I'm not speeding. I'm in the city I work in, and I don't recognize the vehicle."

Carlisle told KHOU 11 News that she rolled down her window and waived the suspect over.
Uh-oh. You in trouble now.
Tomball police say when 21-year-old Bennjair Pina-Torres pulled his white truck alongside, something spooked him and he sped off.

Carlisle followed and called for backup. She said the suspect was speeding at times, faster than 100 mph, running red lights and running people off the road.

"It scared the death of out of me."

At one point, the Montgomery County Sheriff's Office and Precinct 5 Constables Office were notified.

"He still got his red and blues on the grill. A precinct five constable initiates a traffic stop and they take him into custody," said Tomball PD Captain, Rickey Dorre.
And if you think this guy is a serial offender … you would be wrong.
Pina-Torres is charged with impersonating a peace officer, a 3rd degree felony. According to Tomball PD, he has no prior record.