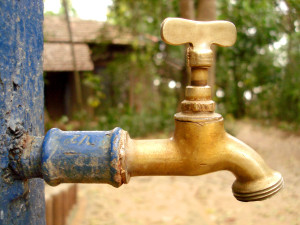 As criminal schemes go, this actually isn't a bad one. So no slamming the victim today. As reported by per NJ.com:
According to Montclair Detective Lt. David O'Dowd, the "diversion-style" burglary hit a Fairview Place home at about 2 p.m. on August 8 when a man wearing beige work clothes and carrying a portable radio rang the doorbell.
It begins …
The man told the homeowner he was working on a water issue in the area, and she let him in to test some of her faucets, police said. After running the water, he led the woman outside to a garden hose, where the two stood for about 30 minutes, police said.

When a voice through the radio said "we're good to go," the man left through the yard, police said. When the woman went back inside, police said she found the house ransacked, and $1,000 in cash stolen.
Good to go! And what about the perps?
Police described the suspect who distracted the woman as a 5-feet-10-inch tall white man with brown hair in his 30s. Anyone with information is asked to call Detective L. McCarthy at 973-509-4725.
You'll find the source here.