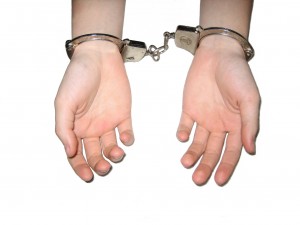 If you've watched any TV, you would know that only serial killers return to the scene of the crime. In this case, returning to the scene of the crime isn't the issue. This dude never left! As reported in The Brooklyn Paper's police blotter (88th Precinct – Fort Greene–Clinton Hill):
Authorities arrested a 34-year-old who they say stole beer from a Classon Avenue deli after threatening the clerk with a gun wrapped in a purple bandana on June 12.
You already have more than an inkling as to how this gent was caught.
The deli worker told cops he was in the store between Putnam and Gates avenues at 7:45 am when the accused came in and placed the festively adorned weapon on the counter. The suspect then ambled over to the refrigerator, grabbed three beers, and left without paying, according to a police report.

Cops responded to a call from the clerk and found the accused outside the store, the report says. Police arrested the fellow after they searched him and found a stolen Beretta from Saint Louis, Missouri wrapped in a bandana tucked into his front pocket, according to officials.
He never left!