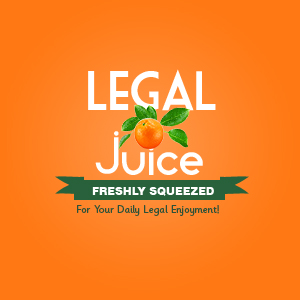 Should a judge be allowed to clearly flout the Constitution with impunity? The Juice certainly hopes not, because Mississippi Chancellor [a Judge in the Chancery Court] Talmadge Littlejohn deserves, at a minimum, to be reprimanded. Why? A lawyer in his court would not recite the Pledge of Allegiance. And when Judge Littlejohn tried to force him to recite it, attorney Danny Lampley held his ground.
If you think that a judge would know that you can't force someone to say the Pledge, you would be wrong. Perhaps in his reading of the Constitution, Judge Littlejohn skipped the first amendment? So what happened to Mr. Lampley for asserting his constitutional right in a court of law? Per The Northeast Mississippi Daily Journal:
At 10 a.m., Lampley was in jail garb. By 2:30 p.m., Littlejohn ordered his release and return to the Lee County Justice Center to continue their business.
4 1/2 hours in jail! Here are Mr. Lampley's choice words for the Judge:
Lampley said he was worried the judge would send him back to jail.
Simply put, the attorney said he and the judge have a "different point of view" about things, like loyalty oaths and the pledge.
"I have a lot of respect for him," Lampley said, "I'm just not going to back off on his.
"I don't have to say it because I'm an American," he said about the 31-word pledge. "I hope he's not too angry with me."
"It's a problem, but it's for the judge and me to work out."
Yeah, different "points of view." One based on the law, one not. Don't blame Mr. Lampley for not taking on the judge. The man has to represent clients in that courthouse, and before that judge, for years to come. But that doesn't mean the Mississippi Commission on Judicial Performance should let this slide. What did Judge Littlejohn have to say about the incident?
After the hearing, Littlejohn's assistant said the judge had no comment on the matter.
Perhaps the decisions get better as the day goes on… You can read more here.