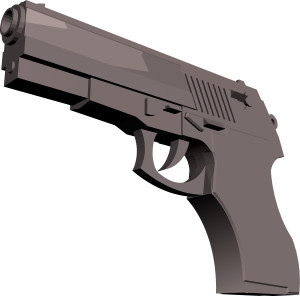 Seriously, it's a dispute over one spot in a line, and you're going to brandish a gun? You're a cop! As reported at fusion.net:
A 911 recording has captured a Tennessee sergeant losing it over a RedBox movie rental.

In the call, obtained by the Knoxville News Sentinel, Sgt. Paul Story, an off-duty Knox County Sheriff's Office employee, can be heard yelling and threatening a man, Timothy Nelson, after Nelson claimed the sergeant was cutting him in line. According to the KCSO's own report, the newspaper said, Story was brandishing his gun during the heated exchange.

"You're a bitch. You threatened me in front of my son," Story is heard saying. He requested an on-duty officer come to the RedBox, and then called 911 on Nelson, creating the audio that we hear.

"I ain't done nothing to you. … Are you going to arrest me over a Redbox rental?" Nelson asked.

"Yeah, you did, shit," Story yelled. "Now that you find out I'm a police officer, you want to back up."

"Why are you doing this?" asked Nelson.

"Because you're a bitch," Story said. "You think you're somebody. You're not… Just shut the hell up. I'm done talking to you. I want someone else to come out here and talk to your dumb ass. I'm going to put you in jail is what I'm going to do."

"For what?" Nelson asked.

Story responded: "For assault, dumb ass. I worked all damn night. So what? You should have got out and stood in line like me. You should've waited in line."

Nelson threatened to file a $25,000 lawsuit concerning the incident, but the department agreed to pay a settlement of $2,500. Story was never officially investigated for the incident, since an official complaint was never submitted. No disciplinary action has been taken.
Yikes. You'll find the source here.
(Legal Juice is brought to you by Washington, DC, Maryland and Virginia personal injury attorney Legal Juice!)