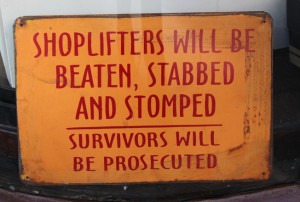 Maybe this guy's intentions were good, or maybe he saw what he thought was an opportunity to shoot his gun. Regardless, he is now officially in the soup.  As reported by wdrb.com (Louisville, Kentucky):
It happened in the parking lot of the Kmart on Outer Loop, near New Cut Road, just before 8 p.m. Thursday.

According to an arrest report, police were called to the area after someone reported a shooting. When they arrived, they met with 24-year-old Robert J. Jones, the man police say fired the gun.

Jones allegedly told the officers that an unidentified white man who was carrying merchandise used an emergency exit to get out of the store. Suspecting the man was a shoplifter, Jones said he confronted him from his truck, demanding a receipt.
You're seriously going to make a citizen's arrest over a potential shoplifting? Just get the license plate and give it to the cops!  But no ….
Jones told police that the man got into a van and "appeared to reach for a gun," according to the arrest report. Jones further told police that he did pull a gun.

At that point, police say Jones told them he got out of his truck, shoved a loaded magazine into his own gun and chambered a round. He then allegedly fired two or three rounds at the white male because he, "looked like he was trying to squeeze off a round."

Jones told officers the man drove his van northbound on New Cut Road — and that the van should have two bullet holes in the hood.
Hmm. "Appeared to reach for a gun."  Any witnesses?
A witness at the scene told police that he never saw a gun in the unidentified white male's vehicle — and that the man in the van was trying to get away from Jones, who was shooting at him.

Officers were able to locate the man in the van, who allegedly told them that, "he had to make an evasive maneuver in his vehicle and drive behind the building because the gun was pointed directly towards him facing New Cut Road," adding that he was, "in extreme fear for his life at the time."
You in trouble now.
The officer who wrote the report stated that since Jones had enough time to load and chamber a round before firing, and that he fired as the vehicle was leaving, that his actions, "manifested an extreme indifference to the value of human life," and that, "the action may have ended in serious injury or death to the vic[tim] and anyone else in the parking lot."

Police say they found three .40 caliber shell casings at the scene, and recovered a .40 caliber handgun from Jones.

Jones was arrested and charged with one count of first degree wanton endangerment.
Bet he keeps it holstered next time. Here's the source, including a mug shot.