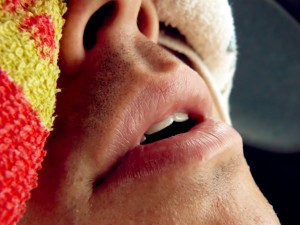 Yes, early one morning, a drunk driver picked the police academy driveway as a good place to sleep it off.  He didn't even make it until the facility opened. As reported at highlinetimes.com (Burien, Washington):
According to the Burien Police Department, a drunk driver decided to pull over for some sleep in the driveway of the Criminal Justice Training Center in the early morning hours of May 18. The Washington State Criminal Justice Training Center, often referred to simply as the "police academy" is located in the southeast corner of Burien at the intersection of 1st Avenue S. and S.W. 192nd Street. The facility is used to train law enforcement students and police from across Washington and is the location for the primary training is done for both the Burien Police Department and the King County Sheriff's Department. Police reported that concerned citizens reported the driver of the vehicle after noticing that the man was unconscious with his truck blocking the entrance to the academy. Police arrived to find the driver heavily intoxicated. When officers ran the man's information, they found that he was wanted for a felony warrant from previous drug charges.
Hopefully this gent gets some help, and doesn't drive again until he's gotten his act together.